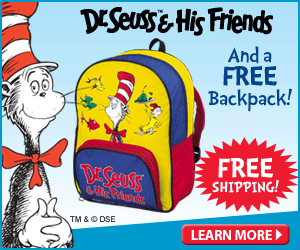 This year Dr. Seuss's birthday (March 2nd) corresponds with Read Across America Day.  This year it will be celebrated on Friday March 1st.   No American writer has had as great an impact on children's literature as Dr. Seuss. His imaginative characters, vivid illustrations, and catchy rhymes are instantly recognizable to anyone who grew up reading his stories. Create a personal library of children's books by joining Dr. Seuss & His Friends book club.
This is a great deal that my family has taken advantage of, all for only $5.95! It includes:
The Cat in the Hat, Mr. Brown Can Moo, Ten Apples On Top, Go Dog Go! & The Tooth Book

Free colorful Cat in the Hat Backpack to carry all your books in.

Free shipping.

Free Dr. Seuss & His Friends Audiobook read by Jason Alexander, David Hyde Pierce or Kelsey Grammer. *Note that this is only available during the Dr. Seuss Birthday weekend celebration.
My kids are so excited about getting to celebrate Dr. Seuss this year because they'll get to have a "Wacky Dress Day" this week at school as well as a read-in where they'll get to share all their favorite Dr. Seuss books.  
For more Dr. Seuss celebration ideas, check out my Pinterest board!  How will you celebrate this year?
Candy Tai
CANDY TAI is a wife to David and mom of 5 with a degree in Communications. She's a native Texan (Hook 'Em Horns!) who's been making her home in the Kansas City metro area for nearly 15 years. She loves being able to shuffle her kids from their various sports activities, piano lessons, and school activities. She enjoys fashion, beauty, reality TV, and moviegoing.